This review contains spoilers.
Restore Me (Shatter Me #4) - Tahereh Mafi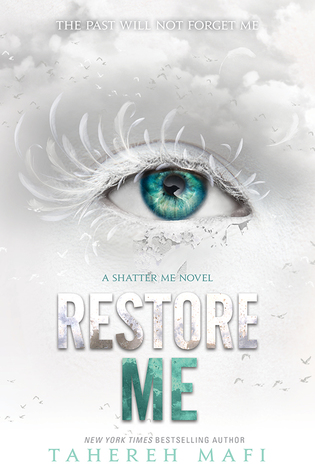 Title: Restore Me (Shatter Me #4)
Author: Tahereh Mafi
Released:
March 5th 2018
Rating: ★★★
Add on Goodreads
Juliette Ferrars thought she'd won. She took over Sector 45, was named the new Supreme Commander, and now has Warner by her side. But she's still the girl with the ability to kill with a single touch—and now she's got the whole world in the palm of her hand. When tragedy hits, who will she become? Will she be able to control the power she wields and use it for good?
I was so excited to read that the Shatter Me series would continue with 3 more books. The end of Ignite Me was indeed pretty open and I was eager for more. However, now that I've read Restore Me, I think it should have ended with the third book. Why? I'll tell you.
Plot
Although it was a fast-paced book with great writing, at the end I realised there was little to no action in Restore Me. In contrast to the first 3 books, this plot was driven by drama, revelations and plot twists.
The main twist in the book about Juliette I found quite strange and disappointing. [Spoiler] It reminded me of the last book of Divergent, in which one plot twist changes the whole way you perceive the series. I also did not think the twist was that original, as I have seen unknown sisters, parents and the special 'chosen one' twist before. A pity. [end]
The Juliette - Warner drama, which took up most of the book, got a bit old for me. Ever heard of talking, guys? I had hoped we had left the 'can I trust you?', secretive, non-talking relationship in book 3.
Some events happening in the story remain unsolved,
[
Spoiler
]
such as the assassination attempt on Juliette with poisoned bullets. What kind of poison was it? Who was the shooter? [end] I hope we get some answers in the next book about that, but I doubt it.
World Building
Mafi could have done more with world-building.
After four books, I still have no clue what their world looks like. Warner's compounds in book 1 and Omega Point from book 2 and 3 are clear, but the rest? They are building compounds somewhere in the Sector, there are wastelands and there is an ocean. And the inhabitants of Sector 45 also live and work somewhere. Not much else is introduced or described, which I had hoped for in this book.
The mysterious
Reestablishment
is also not clarified
much
.
We get some clues on how the Reestablishment formed itself, but on the whole it remains a mystery. What happens outside Sector 45 is also left unsaid.
Not a lot is said about powers either. Juliette only uses her powers in the end, which she apparently still hates even though they won her the war, and the rest of the people with powers do not engage them either. I had hoped the origin of the powers would be explained in this book, but unfortunately this was not the case.
Characters
I was a bit disappointed by the overall character development in this book.
The story focused only on the main characters (Juliette, Warner, Kenji) and the newcomers from different countries. The previous side characters, such as Winston and Brendan, kind of disappeared. Even Adam and James, who I hoped would have some nice talks with Warner, appeared only a few times. The newcomers too, with the exception of Nazeera, remained stereotypes.
I was glad this book finally included Warner's POV, which shows his emotional side. I'm still conflicted about how I feel about Warner. He obviously loves Juliette and would do anything for her, but he has done many bad things in his life, for which he doesn't explicitly feel guilty, he still lies a lot, and does not seem to want to improve himself except for Juliette. He is mean to Haider, who seems to want to be his friend, to Juliette's friends, and to his ex Lena, who really loved him. [spoiler] About the ex-girlfriends, this twist came to me as a surprise. I always saw Warner as a passive guy who only ever fell in love with Juliette. Him having been in other relationships, even if they didn't mean anything to him, feels strange.[end]
In the first half of the book, I understood Juliette's problems, but I also found her quite naive again. Did she really think leading an entire continent would be fun or easy? Fortunately, Kenji talked some sense into her, but I had hoped she had grown enough to realise this fact herself. Later, after all the truth bombs, I started to see the Juliette we had left in book 3 again, who is strong and does not let herself be led.
About Kenji I have little to complain. He was still funny and often a voice of reason for both Juliette and Warner in this book.
I can see Mafi added some diversity to Restore Me. A trans character is introduced, though very briefly and in a hostile manner, Warner is revealed to have anxiety, and characters from new cultures arrive.
Ending [Spoilers!]
In the last few pages, the story went from basically action-less to a whirlwind of death, kidnapping and revelations. I was confused about what was going on. I hope the many deaths have some signifance, because this plot point seems pretty useless right now. And of course the story ends with a cliffhanger, which I am never really a fan of.
I am unsure if I would recommend this book. The first three books I found much better and could stand alone as a trilogy. This book wasn't bad, but it just didn't fit well with the previous three.
I award the book 3 stars.